MCR had a signing session at QK7 stadium this afternoon (19/1). Mikey has the prettiest eyes ever... *cough* Anyway, what I want to say is, I brought Chuck Palahniuk's Invisible Monsters for them to sign on. Ahahahaha. I wanted to bring American Psycho for Frank to sign (because of his big big love for Bret Easton Ellis and mutilated prostitutes and secret gay affairs in the bathroom), but I don't have it here, so Chuck Palahniuk is the next best thing, right? He has mutilated supermodels and underaged gay sex and sex-change operations and OMGAWESOME. The best thing is, Frank recognized the book. XDDD He was like, "Oh, I know this book, good book." and I nearly died of glee. (Me: "Oh, hahaha, I wanted to bring American Psycho for you, but I don't have it here..." - Frank: "Oh really... *grins bashfully*" XD;;)



Frank signed the front page as if he was the book's author.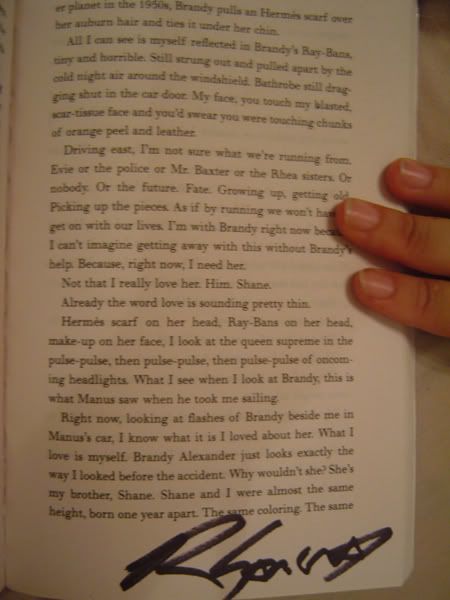 Ray was thoughtful and only signed at the bottom of the page although I totally didn't mind him signing all over it. (It was also really funny how he looked at my book with a totally confuzzled expression on his face, 'What is this book thing I'm seeing in front of me? o__o')



Gerard, apparently, wasn't as thoughtful. He signed all over the COVER before I could say anything. The next time I read it, some people will say, "Oh, cool, you've got an autographed book! What author is that?", and I will be like, "No, actually it's the lead singer of My Chemical Romance.", and that person will just stare at me blankly. (He also looked like he hadn't had a shower in 5 days... which is actually a usual image for him, y/n?)

I didn't manage to get Bob and Mikey to sign it though. ;___;

But I made my friend carry out this brilliant plan where we had them sign with my lipstick and eyeliner. (
haruka1990, you're the most precious friend ever, 'k?)



See, they are the gayest band ever, they sign with lipstick and eyeliner!!

Gerard is such a diva. "XOXO" smack right in the middle of the page, in red lipstick. Also, Mikey apparently wasn't very good with an eyeliner. *snickers*


Extra: Pictures of MCR arriving at TSN airport in HCM city, Vietnam (18/1).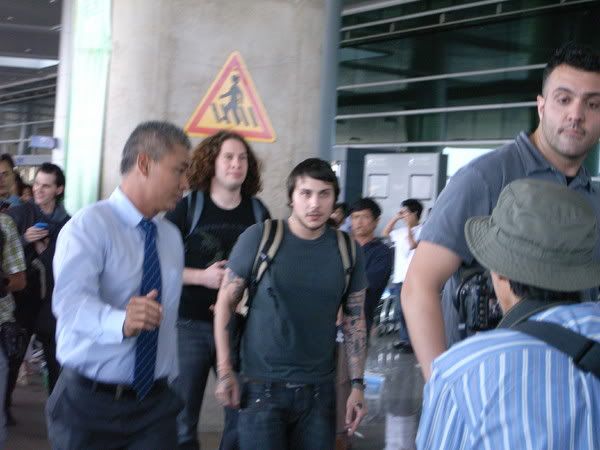 Mikey smiling! With teeth!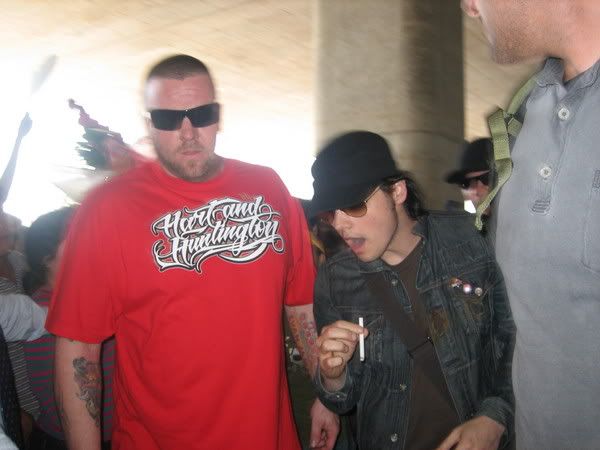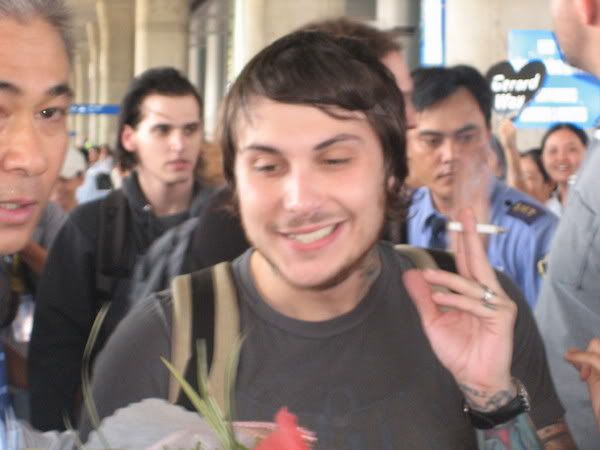 So, what's this I hear about Frank quitting smoking? *raise an eyebrow* He totally was smoking at the signing session as well.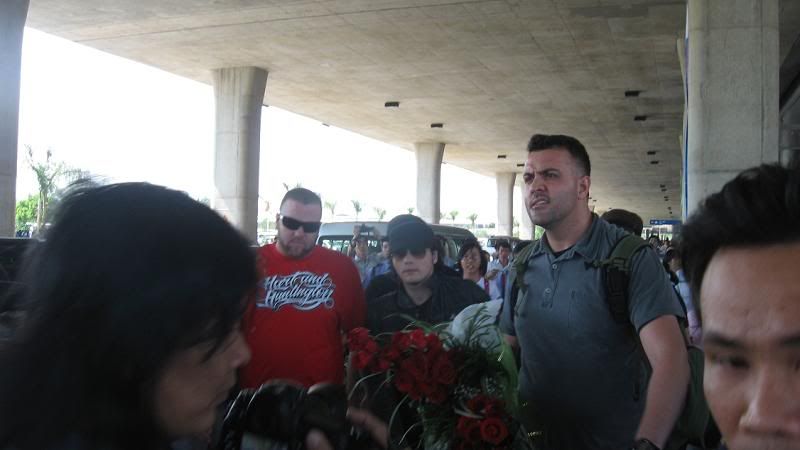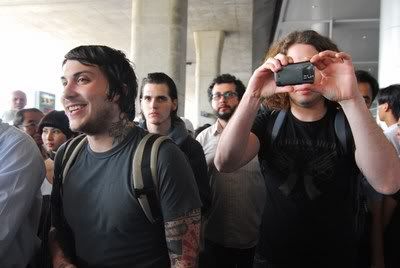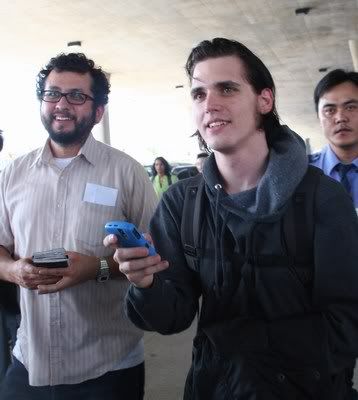 More of Mikey smiling with teeth!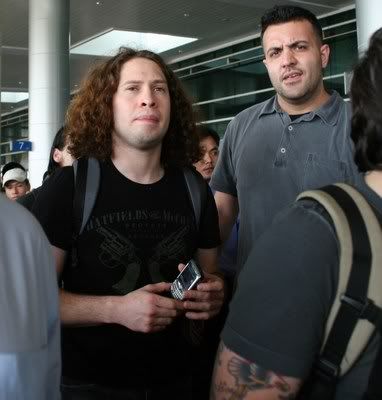 ETA: Pictures from the press conference at New World hotel, 19/1 morning. There's Bob!!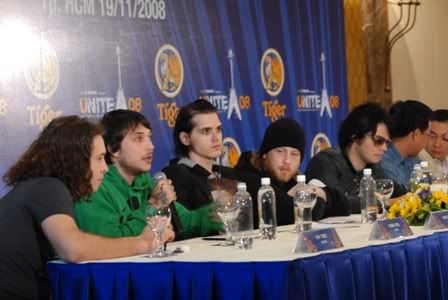 Frank brings colour! The return of Bob Bryar, The Man Who Never Dies!!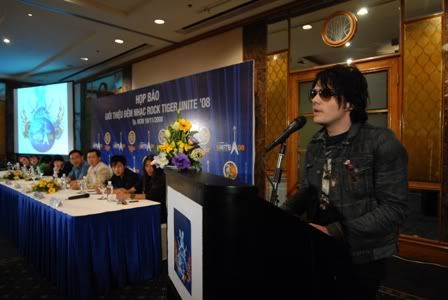 Apparently, Gerard never takes off those sunglasses anymore. It's become a permanent fixture of his everyday life.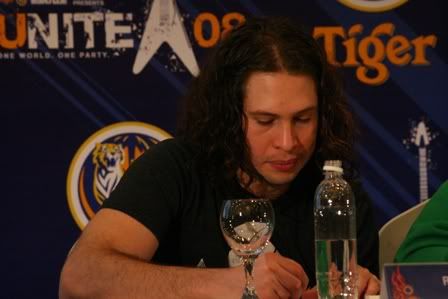 ...Um. What happened to Ray's fro?



...God, his face.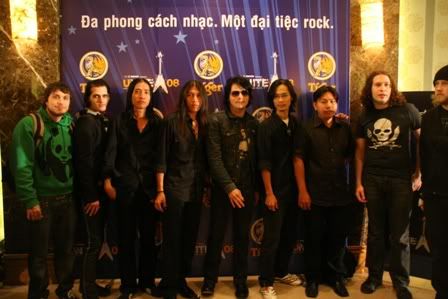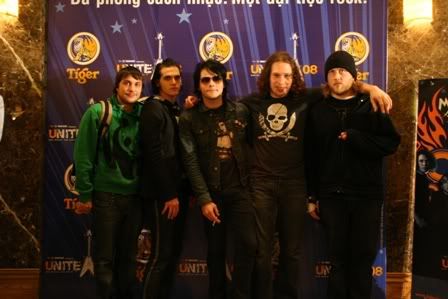 Frank Iero: colour-clashing extraordinaire. How does Frank manage to be so awesome in every single picture?

ETA2: Um. Even MORE pictures from the signing session. No, I didn't take them. They're from the professional photographer of the show's official site.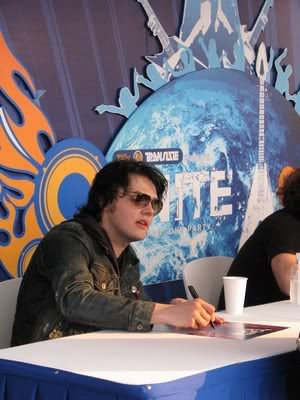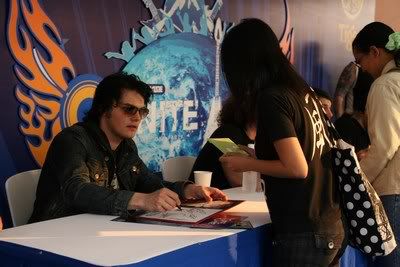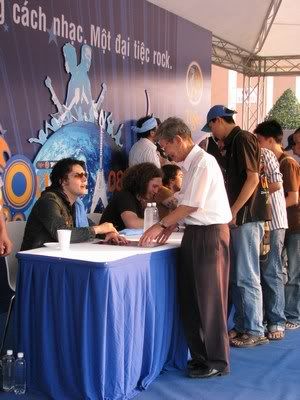 I'm just extremely in love with this pic because that's like a 60-year-old man. Wow. Who knew 60-year-old men listen to MCR? Or maybe he's just there for his granddaughter/son.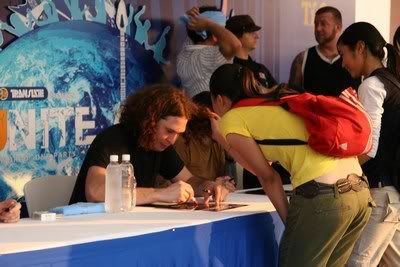 This girl asked whether she could have a lock of Ray's fro. I want to know if she's got it. I WANT.